Subscribe to Bold Outline

Kosmoderma Skin and Hair Clinics, one of the best skin, hair and body clinics in India which was founded in the year 2005 by internationally renowned Celebrity Cosmetologist Dr. Chytra V Anand.
What began as a top of the class high tech clinic with the most skille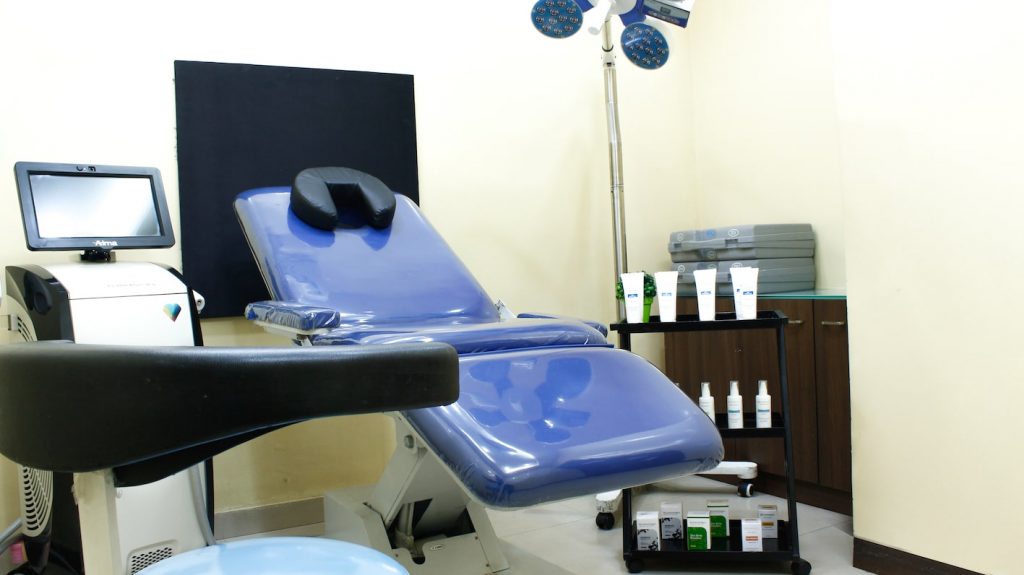 d medical practitioners, in Lavelle Road, Bangalore, soon became the heartthrob of not just celebrities but also common men and women who wanted to look and feel their best. Kosmoderma is a go to clinic for Bollywood celebrities, super models and the elite for improving their body and facial aesthetics along with skin and hair treatments.
With US-FDA and European CE approved accreditations to its name, the brand envisions to be the leading skin, hair and body healthcare provider to the Indian masses, offering safe and effective world class procedures at affordable prices. Dr. Chytra V Anand is recognised among the Top Rates Dermatologist in Richmond Town according to ClinicSpots in 2019.
• Several National and International Awards
• An average of 95 thousand plus patients an year with a growth of about 4%
• Pioneer in introduction of several international technologies in India
ceramides                                                                sugar cane extract
peptides                                                                   lemon fruit extract
vitamin E                                                                green tea extract
panthenol                                                                caffeine
apigenin                                                                   olive oil
Kosmoderma Hair Gen Serum is a unique next-gen formula to strengthen and nourish hair made of biomimetic peptides and ceramides.
It helps in reducing hair fall, stimulates hair growth, reduces premature greying while also protecting hair from pollution and environmental damage.
Active ingredients such as ceramides, peptides, vitamin E, panthenol and apigenin ensure hair is coated with healthy essential nutrients which protect it from breaking and thinning.
The serum is also infused with natural ingredients like sugar cane extract, lemon fruit extract, green tea extract, caffeine, olive oil and betaine that fight dandruff and improve overall hair texture.
The serum can be applied daily on the scalp. For regular hair maintenance use 2ml of the solution and massage for a minute.
In the case of hair thinning, use 3ml everyday for 4-6 months to see the best results. The serum works most effectively, if it is combined with Kosmoderma Hair Capsule and Hairgen Capsule.
anagain / Green Pea extract
Niacinamide
amino acid complex
essential vitamin
mineral complex
Hairgen dietary supplement is a unique formula of dietary supplement to strengthen nourish and protect hair. These capsules work like a super-food in nourishing frizzy & brittle hair thus reducing hair fall. Enriched with active ingredients like anagain, saw palmetto, amino acid complex, essential vitamin & mineral complex. Anagain, vitamin & mineral complex increases hair thickness while saw palmetto stops hormonal activity that causes thinning and balding. To reduce hair thinning & regular maintenance takes 2 capsules per day for 6 months. For best results, combine with Hair Gen serum and shampoo.
AnaGain                                                             Caffeine
The Kosmo Hair Gen Shampoo is a special formulation to help tackle hair fall/loss & reactivate hair growth . It has vital ingredients like AnaGain & Caffeine that stimulate the scalp & signal molecules in the dermal papilla that is required to reactivate hair growth. The shampoo contains Niacinamide which is anti inflammatory and helps decrease scalp sensitivity. The lemon extracts in the shampoo help with oil control of the scalp, making it suitable for all scalp types . It can be used as often as required by both men & women. Apply & massage into wet scalp, leave on for a minute & smoothen along hair & wash off.
Alpha Arbutin                                                  Tumeric
Niacinamide                                                     Ginger Root
Aloe Vera
For acne & oily prone skin. The Acne & Blemish control serum is a unique blend of actives with botanicals that helps clear acne, blemishes, and marks and unclogs pores, and reduces whiteheads & blackheads. The serum contains active ingredients like azelaic acid which is an anti-bacterial and reduces cell clumping. Niacinamide helps in regulating oil production & prevents breakouts, Alpha Arbutin clears blemishes and marks making the skin look brighter. The serum contains Turmeric (Curcumin) & Ginger Root which have anti Inflammatory & anti-oxidant properties. This serum not only helps in controlling acne and blemishes but also soothes skin and moisturizes the skin due to the presence of Aloe Vera and Shea Butter. Apply 3-4 pumps on your clean face every morning before applying sunscreen. For maintenance use the serum every night after cleansing your face followed by a moisturizer. Avoid using during pregnancy and lactation.
Sun protection for all skin types Kosmoderma PhotoProtect Spf 40 PA+++ with UVA/UVB protection & Blue light Protection is a light and easy-to-use formula for daily use. The Photo Sun Protect Gel covers a broad spectrum of skin issues caused due to harmful sun rays passing into our skin. Sunscreen is the most critical skincare step, to fight the damage from UV light & Blue light. In Spite of the gel consistency, the product protects your skin from letting any of the harmful rays seep into your skin by providing a thicker layer of sun protection which is non-greasy and stays on for a long time without leaving any residue. The non-comedogenic nature of this product makes it highly suitable for all skin types. With a built-in Vitamin C antioxidant, this sunscreen allows your skin time to heal and your immune system the chance to repair free radical damage.
Hyaluronic acid
Tocopherol ( Vit E)
Suitable for all skin types. Kosmoderma's Hydra Boost Gel is a superior skin hydrator & is the answer to all your dry skin problems. When you are done with moisturizers and creams and your skin still feels dry, Hydra Boost Gel is the solution. Hydra Boost Gel contains special ingredients that are retained in the skin and keeps releasing its benefits longer than any other skin hydrator. The Hyaluronic acid restores the skin barrier and keeps the skin supple, glowing, and hydrated. The Tocopherol ( Vit E) protects the skin against free radical damage & DL Panthenol repairs the skin from overexposure to pollution and helps rejuvenate the skin.
Glycolic Acid
Kojic Acid
Lactic Acid
For Sun Damaged / Pigmented underarms area, inner thigh / Ingrown hairs Is your skin sun damaged, pigmented, clogged, wrinkled, dull looking and/or rough? Do you have an ingrown hair problem or a skin condition called Keratosis Pilaris (KP) commonly described as bumpy dry skin? Detan body lotion can help you with all these problems and more. It is an absolute damage repair for your skin. We call it Detan Therapy. This lotion is formulated with AHAs & skin lightening agents to help relieve rough, dry and environmentally damaged skin and reduce the appearance of pigmentation, in-grown hair, fine lines and wrinkles with repeated use.
Glutathione a super antioxidant                    Lycopene
Alpha Lipoic Acid                                              Curcumin
Ubiquinone
The Skin Brite capsule has been specially formulated by our expert Dermatologists to help Indian skin to increase the skin's immunity to UV radiation and decrease tanning. The combination of L Glutathione a super antioxidant and Polypodium extract a photo protector helps maintain skin color and give the skin a healthy glow. With long term use the Skin Brite capsules brightens the skin complexion, promotes skin health and helps in skin restoration. Take the capsule daily, at least 2 hours ahead of sun exposure. If you tan easily or suffer from photosensitive skin & sun rashes then take one capsule, twice a day for best results.
Kojic Acid                                                          Bearberry extract
Beta Arbutin                                                     Gooseberry extract
Licorice,
The Derma Brite Cream is an advanced skin brightening, anti-inflammatory & skin protective cream. It has a combination of 5 lightening agents – Kojic Acid , Beta Arbutin, Licorice, Bearberry extract & Gooseberry extract that helps lighten dark spots /circles & pigmentation. The cream is rich in anti- oxidants & contains Glutathione, Vitamin C & E . It also has calming and anti – inflammatory agents like Aloe Vera, Niacinamide, Chamomile, RoseHip Oil. The presence of hyaluronic acid also helps in hydrating the skin
Urea
glycerol
Hyaluronic acid
lactic acid 1 %
For dry to very dry skin, chapped skin on face, body and lip areas. Kosmo Ultra Moisture Blast is made of urea, glycerol, Hyaluronic acid and lactic acid 1 %. It can heal the most common concerns occurring due to dryness of the skin.
Patients with amyloidosis / acanthosis / hyper pigmentation
Post procedures on face / body areas after Phenol peel, TCA Peel, Black Peel
Darkening of underarms, inner thighs, knees, elbows
Ingrown hair
Chapped dry lips as a lip balm
Kosmo Ultra Moisture Blast can be used for all skin types, except oily skin on the face.
Active Ingredients                         Natural Ingredients
Glycerine                                         Vit E
Sodium Hyaluronate
Ceramide
For All Skin Types.
Kosmoderma's Moisture Boost cream is a blend of (naturally) hydrating ceramides and hyaluronic acid that soothes, refreshes and moisturises the skin. The ceramides of the cream stimulate and renew skin cells.The infusion of Glycerine and Sodium Hyaluronate act as humectants that replenish the skin's moisture and provides instant hydration to the skin.The cream melts into the skin to soothe and prevent environmental damage & water loss. A perfect pick for nourishing the skin, our Moisture Boost cream evens out skin texture to make it soft & supple. A light gel textured moisturiser, Moisture boost easily penetrates into the skin and is suitable for all skin types.
For All Skin Types
Cleansing is the most important part of a skincare regimen. Cleansers come in many forms and should be used twice a day. Soap is not usually recommended, as it can leave a film on the skin and can be quite alkaline, causing dryness. Cleansers that rinse clean with water and are not too harsh are the best choices.
Kosmo Cleanser is a multi-cleanser that thoroughly cleanses, hydrates and also protects the skin. It has a unique formula that is suitable for all skin types & conditions. It's active yet gentle ingredients like oats; shea butter will leave the skin feeling soft and supple. This soap free product is non – irritating and cleanses without leaving a filmy residue that can clog pores. Because it is pH balanced, it protects the acid mantle layer of the skin that in turn protects the skin from sun damage and dehydration.

Boldoutline magazine is one of India's most promising luxury lifestyle magazine. With a splash of choiciest articles, fun read, snappy views garnished with stunning photo spreads, the magazine is every reader's delight wrapped in one. A monthly sanctuary of everything luxurious, Boldoutline is a haven for lovers of travel, style, beauty, culture, auto and literature.


Subscribe to Bold Outline
  FACEBOOK
  TWITTER
  INSTAGRAM
  LINKEDIN
  YOUTUBE


Copyright © 2020 Webwiz New Media Pvt. Ltd. | All Rights Reserved.
 



Subscribe to Bold Outline
Our site uses cookies. Learn more about our use of cookies: cookie policy