Comedy Wildlife Award Winners 2021.
Six years ago, the Comedy Wildlife Photography Awards started humbly as a small photo contest. But it's grown to be a worldwide renowned competition seen by millions across the globe. The photos are always funny but they come with a serious message: We need to protect the natural world.
This year's winner is "Ouch!" a photo of a Golden Silk Monkey who appears to have injured the family jewels by landing on a wire with his legs open. The photo was taken by Ken Jensen in 2016.
"I was absolutely overwhelmed to learn that my entry had won, especially when there were quite a number of wonderful photos entered," Jensen said in a statement. "The publicity that my image has received over the last few months has been incredible, it is such a great feeling to know that one's image is making people smile globally as well as helping to support some fantastically worthwhile conservation causes."
Golden Silk Monkey, China.
©Ken Jensen/Comedy Wildlife Photography Awards 2021.
This is actually a show of aggression, however in the position that the monkey is in it looks quite painful!
©John Spiers/Comedy Wildlife Photography Awards 2021.
"I was taking pics of pigeons in flight when this leaf landed on the bird's face." – John Spiers
©ArthurTrevino/Comedy Wildlife Photography Awards 2021.
When this Bald Eagle missed its attempt to grab this prairie dog, it jumped toward the eagle and startled it long enough to escape to a nearby burrow. A real David vs. Goliath story!
©Chee Kee Teo/Comedy Wildlife Photography Awards 2021.
A smooth-coated otter "bit" its baby otter to bring it back for a swimming lesson.
©Vicki Jauron/Comedy Wildlife Photography Awards 2021.
An elephant expresses its joy in taking a mud bath against the dead trees on the shores of Lake Kariba in Zimbabwe on a hot afternoon.
©Vicki Jauron/Comedy Wildlife Photography Awards 2021.
©Vicki Jauron/Comedy Wildlife Photography Awards 2021.
©Vicki Jauron/Comedy Wildlife Photography Awards 2021.
©Andy Parkinson/Comedy Wildlife Photography Awards 2021.
Two Kamchatka bear cubs square up for a celebratory play fight having successfully navigated a raging torrent (small stream!).
©Chu Han Lin/Comedy Wildlife Photography Awards 2021.
I have the high ground!
©David Eppley/Comedy Wildlife Photography Awards 2021.
Bald eagles will use the same nest for years, even decades, adding new material to it at the beginning and throughout the nesting season. Normally, they are highly skilled at snapping branches off trees while in flight. Possibly tired from working nonstop all morning on a new nest, this particular bald eagle wasn't showing its best form.
Yes, sometimes they miss. Although this looks painful, and it might very well be, the eagle recovered with just a few sweeping wing strokes, and chose to rest a bit before making another lumber run.
©Gurumoorthy K/Comedy Wildlife Photography Awards 2021.
Just who do you think you're looking at?
©Jakub Hodáñ/Comedy Wildlife Photography Awards 2021.
This proboscis monkey could be just scratching its nose on the rough bark, or it could be kissing it. Trees play a big role in the lives of monkeys. Who are we to judge?
©Jan Piecha/Comedy Wildlife Photography Awards 2021.
The little raccoon cubs are telling secrets to each other.
©Lea Scaddan/Comedy Wildlife Photography Awards 2021.
Two western grey kangaroos were fighting and one missed kicking the other in the stomach.
©Nicolas de Vaulx/Comedy Wildlife Photography Awards 2021.
This raccoon spends its time trying to get into houses out of curiosity and perhaps to steal food.
©Pal Marchhart/Comedy Wildlife Photography Awards 2021.
A young bear descending from a tree looks like it's playing hide and seek.
©Ronald Kranitz /Comedy Wildlife Photography Awards 2021.
I spent my days in my usual "gopher place" and yet again, these funny little animals haven't belied their true nature.
©Rahul Lakhmani/Comedy Wildlife Photography Awards 2021.
Growing up in Indonesia, Farwiza Farhan always loved the ocean. It's why she decided to study marine biology. But the more she learned, the more she realized that it wasn't enough to work in the ocean. She needed to protect it.
"I see the ocean ecosystem collapsing due to overfishing and climate change," she says. "I felt powerless and didn't know what to do [so] I decided to pursue my master's in environmental management."
This choice led her to work in environmental protection, and it was fate that brought her back home to the Leuser Ecosystem in Sumatra, Indonesia — one of the last places on earth where species such as tigers, orangutans, elephants and Sumatran rhinoceros still live in the wild today. It's also home to over 300 species of birds, eight of which are endemic to the region.
"When I first flew over the Leuser Ecosystem, I saw an intact landscape, a contiguous block of lush, diverse vegetation stretched through hills and valleys. The Leuser is truly a majestic landscape — one of a kind."
She fell in love. "I had my first orangutan encounter in the Leuser Ecosystem," she remembers. "As the baby orangutan swung from the branches, seemingly playing and having fun, the mother was observing us. I was moved by the experience."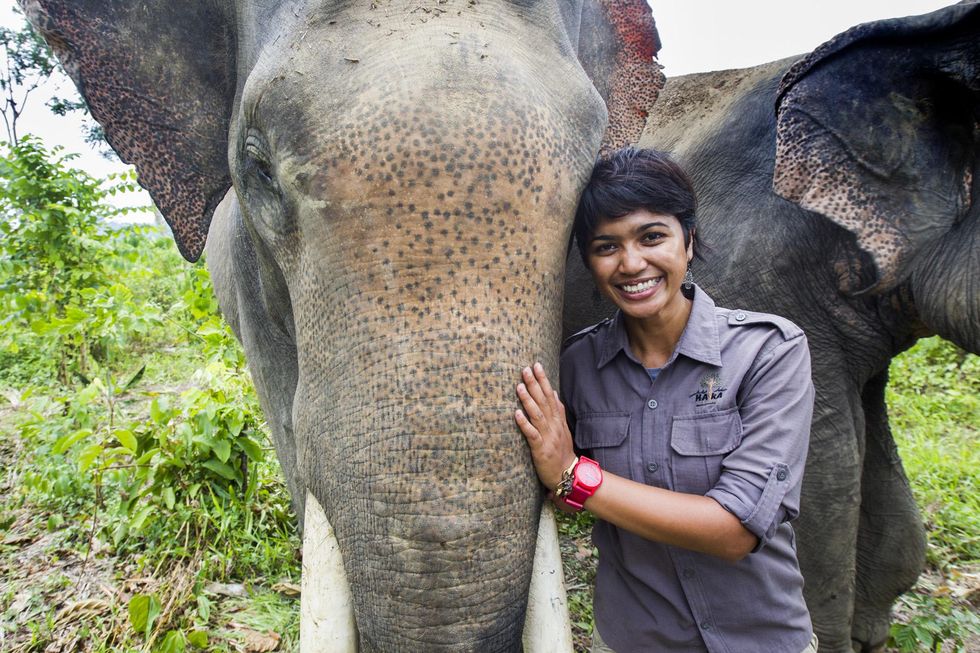 Courtesy of Farwiza Farhan
"Over the years," she continues, "the encounters with wildlife, with people, and with the ecosystem itself compounded. My curiosity and interest towards nature have turned into a deep desire to protect this biodiversity."
So, she began working for a government agency tasked to protect it. After the agency dismantled for political reasons in the country, Farhan decided to create the HAkA Foundation.
"The goals [of HAkA] are to protect, conserve and restore the Leuser Ecosystem while at the same time catalyzing and enabling just economic prosperity for the region," she says.
"Wild areas and wild places are rare these days," she continues. "We think gold and diamonds are rare and therefore valuable assets, but wild places and forests, like the Leuser Ecosystems, are the kind of natural assets that essentially provide us with life-sustaining services."
"The rivers that flow through the forest of the Leuser Ecosystem are not too dissimilar to the blood that flows through our veins. It might sound extreme, but tell me — can anyone live without water?"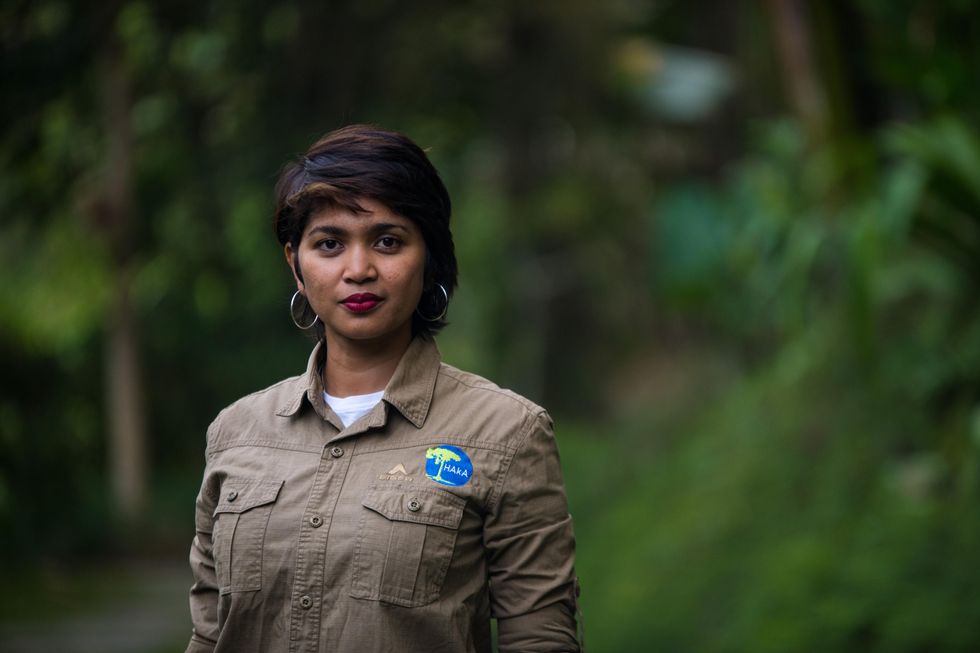 Courtesy of Farwiza Farhan
So far, HAkA has done a lot of work to protect the region. The organization played a key role in strengthening laws that bring the palm oil companies that burn forests to justice. In fact, their involvement led to an unprecedented, first-of-its-kind court decision that fined one company close to $26 million.
In addition, HAkA helped thwart destructive infrastructure plans that would have damaged critical habitat for the Sumatran elephants and rhinos. They're working to prevent mining destruction by helping communities develop alternative livelihoods that don't damage the forests. They've also trained hundreds of police and government rangers to monitor deforestation, helping to establish the first women ranger teams in the region.
"We have supported multiple villages to create local regulation on river and land protection, effectively empowering communities to regain ownership over their environment."
She is one of Tory Burch's Empowered Women this year. The donation she receives as a nominee is being awarded to the Ecosystem Impact Foundation. The small local foundation is working to protect some of the last remaining habitats of the critically endangered leatherback turtle that lives on the west coast of Sumatra.
"The funds will help the organization keep their ranger employed so they can continue protecting the islands, endangered birds and sea turtle habitats," she says.
To learn more about Tory Burch and Upworthy's Empowered Women program visit https://www.toryburch.com/empoweredwomen. Do you know an inspiring woman like Farwiza? Nominate her today!
Here are some things new parents need to know.
Parenting is as old as time, but there's never been a time in history when we've talked about it more. If you go into any bookstore, you'll find shelf after shelf filled with books about how to raise your kids. If you have questions about any element of parenting, there are countless websites and online groups you can consult.
And yet, most of us still go into it unaware of the reality of it, because let's face it, there's no way to adequately prepare for parenthood. No matter what you picture it being like going in, parenting will yank that image right out of your head, smash it into the ground and grind its heel right into the heart of it.
Okay, that's a bit dramatic. But only a bit. Parenting is the hardest, most rewarding job on earth—a thrill ride that takes you on the highest highs and plunges you to the lowest lows. Up and down you go, over and over again, sometimes squealing with delight, sometimes thinking you might puke and sometimes screaming "Stop the ride, I wanna get off!"
While it's not possible to truly prepare, it's good to hear from experienced parents what you might expect. Every kid, every parent, every family is different, but there are some near-universal things that people really should know going in.
A user on Reddit asked, "What is something nobody warns people about enough when it comes to having kids," and the answers didn't disappoint. Here are some highlights:
"There's a very good chance they won't turn out like you think," wrote one commenter. That's not to say that you have no influence whatsoever, but each kid is their own unique person with their own individuality, and they also change as they grow. If you're too attached to an idea of how they should be, you may not fully appreciate who they are.
"People seem to often forget that they're raising people," shared another commenter, "as in, independent-thinking individuals whose actions, values, personalities, interests, and capabilities will potentially be completely unlike yours. I've seen a lot of parents struggle hard with that, and frankly, that's a possibility you should have made your peace with before you became a parent, imo."
Another person added:
"This is why many parent/child relationships are so strained. Many parents have a child thinking they are programming a perfect human being. Many are disappointed when the child is not the exact person they hoped (or worse, the polar opposite). Perfectly normal children grow into resentful, tired adults because of their parents' unrealistic expectations that have nothing to do with them."
We all want to look to "the experts" when raising our kids, and some things we find in parenting books can be marginally helpful. But they certainly aren't the be-all-end-all of good parenting.
"The books are fine for ideas, your experience, friends thoughts, paediatricians, therapists," wrote one commenter. "But at the end of it all you have this complicated little person you're in charge of with their own preferences, feelings, insecurities, abilities, and you have to do what works for them and your family and, of course, also raise someone who isn't a blight on humanity or menace to society."
Another wrote:
"As my mum says: 'The kid hasn't read the book.'
"Her parents tried to do everything by the book with her and she hated it. She was supposed to have pigtails, wear dresses, learn piano and not go climb trees and play soccer/football. She saved pocket money to get her hair cut short and her dad almost hit her for it. Did she stop pushing to be herself? Nope. She is a strong woman, but boy, does she have some scars on her soul.
"With her own three kids she watched what interests they developed and then helped them explore it further and to not forget to keep an open mind about other possible hobbies, sports, arts etc. I have no idea how to thank her properly for this."
"The days are loooong and the years are so very short," wrote one person. It's true. When you're in the thick of parenting and someone tells you how fast it goes, you might feel like strangling them. But then you look at your child who has changed so much and it does feel fast in hindsight.
"I've heard older people say this or the equivalent all my life," wrote another. "I always thought I understood. And then I had children. Now I understand. I keep looking at my kids and can't believe how much time has passed. I'll look at them doing something new and just be amazed. Seems like yesterday that my youngest couldn't lift her own head and now she's doing tuck rolls across the house."
"This is it!" shared a parent of young adults. "Mine are 18, 19 & 20. Empty-nest syndrome is a REAL thing. I always look back and think… How the hell did it go by so quick? I used to roll my eyes at people who would say stuff like this when they had 3 different practices, in 3 different places at the same time. It really goes by so quickly."
When they're babies, they wake up in the night for all kinds of reasons—to eat, to practice crawling, to say hi, to wail inconsolably for no explicable reason, and so on. When they're older, they wake up because they need to go to the bathroom or a drink of water or they're scared. Then, when they're much older, they suddenly stay up late and want to have deep, heart-to-heart talks at 10 p.m. Most of us expect the baby sleep deprivation stage, but there are sleep disruptions throughout a child's entire childhood.
"When they grow older, you don't have a private life anymore," wrote one commenter. "They stay awake longer than you."
"Never thought of this. The later part of the evening is my time usually," someone responded.
"Used to be my time as well," shared another commenter. "Since becoming a parent, my time is 4-6am. One reason why you start waking up early once you're older, probably."
I have a young adult, a teen and an almost-teen, and I can attest to waking up extra early simply to have uninterrupted time to myself.
"For me, I stopped having a chance to think anything through without interruption," wrote a commenter. "I had a very hard time with that. I couldn't remember anything, couldn't make decisions, etc because every thought seemed to get interrupted.
"I'd just sit in my car alone sometimes so I could think."
Ah, the beautiful, quiet solitude of the car. Every mother I know enjoys a good "car bath" once in a while.
"I am so glad somebody said this," someone responded. "I was starting to worry I was getting early onset dementia, because my mind just feels like mush all the time. I can't remember things, I start sentences and can't finish them, I forget common words….my mind rarely gets to switch off because someone is always interacting with me or calling my name."
Part of the brain mush is because kids need things all the time. And part of it is that you now have an entire other person's life (multiplied by however many kids you have) to think about. Their health and well-being, their education, their emotional state, their character—it's a lot. So much more than you can really imagine until you're in it.
"How important the years between 7 and 12 are for building a bond (one that lasts into the teenage years)," wrote a commenter. "They are so hard to listen to at that age with all the starts and stops in conversation and they talk about the most boring thing's BUT it is so important to listen and converse at those ages. They will grow into teenagers that will talk to you, and be fun to talk to, but only if you can get through long boring conversations about Minecraft or whatever thing they are currently into."
Having teens and young adults, I have seen the truth of this advice play out. If you want your teens to talk to you, you have to listen well before they get to that age.
Another user shared what it meant to them when their mother did just that:
"I can remember being about 12 and wanting to share my biggest interest at the time with my mom, that being Bionicle, by reading to her all the books I had been collecting with my allowance. Sometimes she would involuntarily fall asleep, but my God she tried so hard to show an interest. I really didn't appreciate it at the time, focused on all the times she yawned or fell asleep, but now (16 years later) we both remember it fondly as the bonding time it really was."
And another shared just the opposite:
"My god, what an amazing mom you have. I vividly remember coming home from school around 12-13 yo, super excited to tell my mom all about my day, and she's sitting there reading her book, as always. No problem, I'm just telling her my stories while she's reading. Then that one time, I wondered is she actually listening? So I stopped mid-sentence and she didn't notice. I remember my heart just sank, and after that I never told her anything ever again. I don't think she noticed."
"Practicing diapers on a doll doesn't count," wrote one commenter. "You're ready when you can do it on a cat."
HA. So true. Others shared their diaper wrangling woes as well:
"My first daughter was patient and would just let us change her. My second daughter wants nothing more than to roll over and crawl away. There's nowhere for her to go but she wants to go anyway."
"It's like, I am physically orders of magnitude stronger than her, how the hell does she still win?"
"My daughter has just perfected the alligator death roll technique when she doesn't want to be changed or put pants on lmao. And because she's 2 and a bit she laughs the whole time cause it's hilarious."
Don't even get me started on trying to get an unwilling jellyfish toddler buckled into a carseat.
"I stupidly thought once I had a child I would automatically 'know' how to parent," wrote one commenter. "You're the same dummy before and after having a child, and you realize how much your parents were winging it."
"Leaving the hospital with that tiny fragile little being was terrifying," wrote another. "C-section delivery so they kept us a couple days longer. Lots of help from the amazing maternity ward, to the moment you realize you and your spouse are alone and now solely responsible for keeping this little baby alive."
"Yeah, it's like: "We can just leave? WITH the baby? Who approved this?" added another.
"The panicked looks my husband and I exchanged the first time we were left alone with our newborn will live forever in my mind," wrote yet another.
It really is surreal that you're just, like, handed a newborn baby and that's it. A whole life in your hands, and you're supposed to just figure out what to do with it. Good luck!
"Nothing prepared me for the sheer 'unrelentingness' of parenting," shared one parent. "Every day for many years has to be finished with a dinner/bath/bed routine that takes two hours, regardless of how tired, upset or unwell you are. Difficult enough if you've been at work all day, yes. But also if you're on holidays and got a little bit sunburnt, or been to a family wedding and overeaten, or spent the day assembling Ikea furniture and are just exhausted.
"As a childless adult you could occasionally say 'I'm just having takeaway tonight', and flop in front of the TV until bedtime. As a parent, that's not an option."
This is a truth that's hard to fathom but oh so real. Parenting never ends. You don't ever really get a break, even when you're lucky enough to kind of get a break. Your kids' well-being is always on your mind, even when you're not with them.
And it doesn't end at 18, either. Many commenters talked about how parenting is forever. You worry about your adult kids, too, just in a different way than when they were young and you were fully responsible for raising them.
This list might lead people to believe that parenting sucks, but it doesn't. I mean, sometimes it can, but that's true of anything in life. If you're fortunate and put in your best effort, the joy and fulfilment of parenting hopefully outweighs the hard parts. Getting a realistic picture of what it entails—both the delights and the challenges—can help people temper their expectations and take the roller coaster of parenting as it comes.
Marcella Lopez didn't always want to be a teacher — but once she became one, she found her passion. That's why she's stayed in the profession for 23 years, spending the past 16 at her current school in Los Angeles, where she mostly teaches children of color.
"I wanted purpose, to give back, to live a life of public service, to light the spark in others to think critically and to be kind human beings," she says. "More importantly, I wanted my students to see themselves when they saw me, to believe they could do it too."
Ms. Lopez didn't encounter a teacher of color until college. "That moment was life-changing for me," she recalls. "It was the first time I felt comfortable in my own skin as a student. Always remembering how I felt in that college class many years ago has kept me grounded year after year."
It's also guided her teaching. Ms. Lopez says she always selects authors and characters that represent her students and celebrate other ethnicities so students can relate to what they read while also learning about other cultures.
"I want them to see themselves in the books they read, respect those that may not look like them and realize they may have lots in common with [other cultures] they read about," she says.
She also wants her students to have a different experience in school than she did.
When Ms. Lopez was in first grade, she "was speaking in Spanish to a new student, showing her where the restroom was when a staff member overheard our conversation and directed me to not speak in Spanish," she recalls. "In 'this school,' we only speak English," she remembers them saying. "From that day forward, I was made to feel less-than and embarrassed to speak the language of my family, my ancestors; the language I learned to speak first."
Part of her job, she says, is to find new ways to promote acceptance and inclusion in her classroom.
"The worldwide movement around social justice following the death of George Floyd amplified my duty as a teacher to learn how to discuss racial equity in a way that made sense to my little learners," she says. "It ignited me to help them see themselves in a positive light, to make our classroom family feel more inclusive, and make our classroom a safe place to have authentic conversations."
One way she did that was by raising money through DonorsChoose to purchase books and other materials for her classroom that feature diverse perspectives.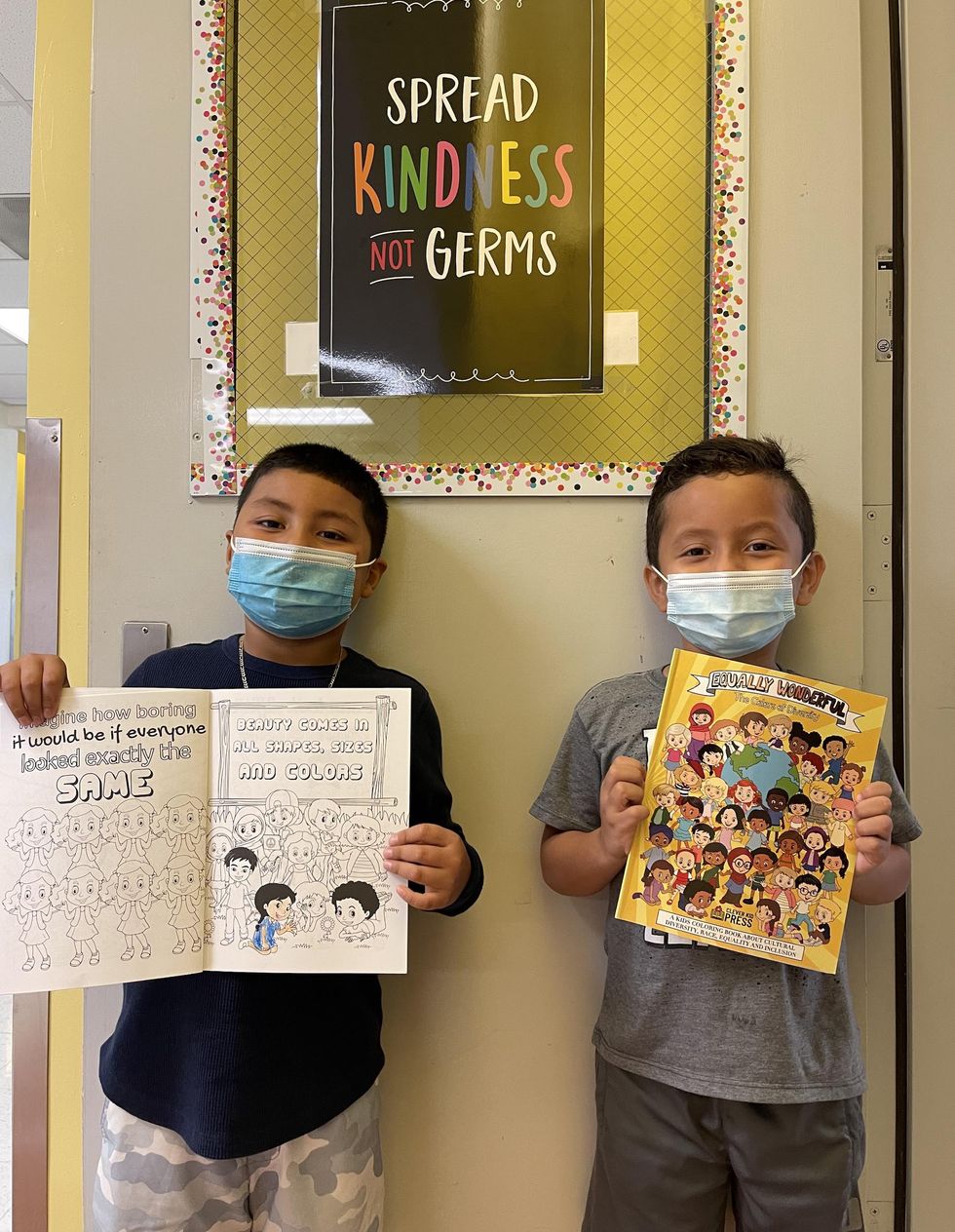 Courtesy of Ms. Lopez
The Allstate Foundation recently partnered with DonorsChoose to create a Racial Justice and Representation category to encourage teachers like Ms. Lopez to create projects that address racial equity in the classroom. To launch the category, The Allstate Foundation matched all donations to these projects for a total of $1.5 million. Together, they hope to drive awareness and funding to projects that bring diversity, inclusion, and identity-affirming learning materials into classrooms across the country. You can see current projects seeking funding here.
When Ms. Lopez wanted to incorporate inclusive coloring books into her lesson plans, The Allstate Foundation fully funded her project so she was able to purchase them.
"I'm a lifelong learner, striving to be my best version of myself and always working to inspire my little learners to do the same," she says. Each week, Ms. Lopez and the students would focus on a page in the book and discuss its message. And she plans to do the same again this school year.
"DonorsChoose has been a gamechanger for my students. Without the support of all the donors that come together on this platform, we wouldn't have a sliver of what I've been able to provide for my students, especially during the pandemic," she says.
"My passion is to continue striving to be excellent, and to continue to find ways to use literature as an anchor, depicting images that reflect my students," she says.
To help teachers like Ms. Lopez drive this important mission forward, donate on DonorsChoose.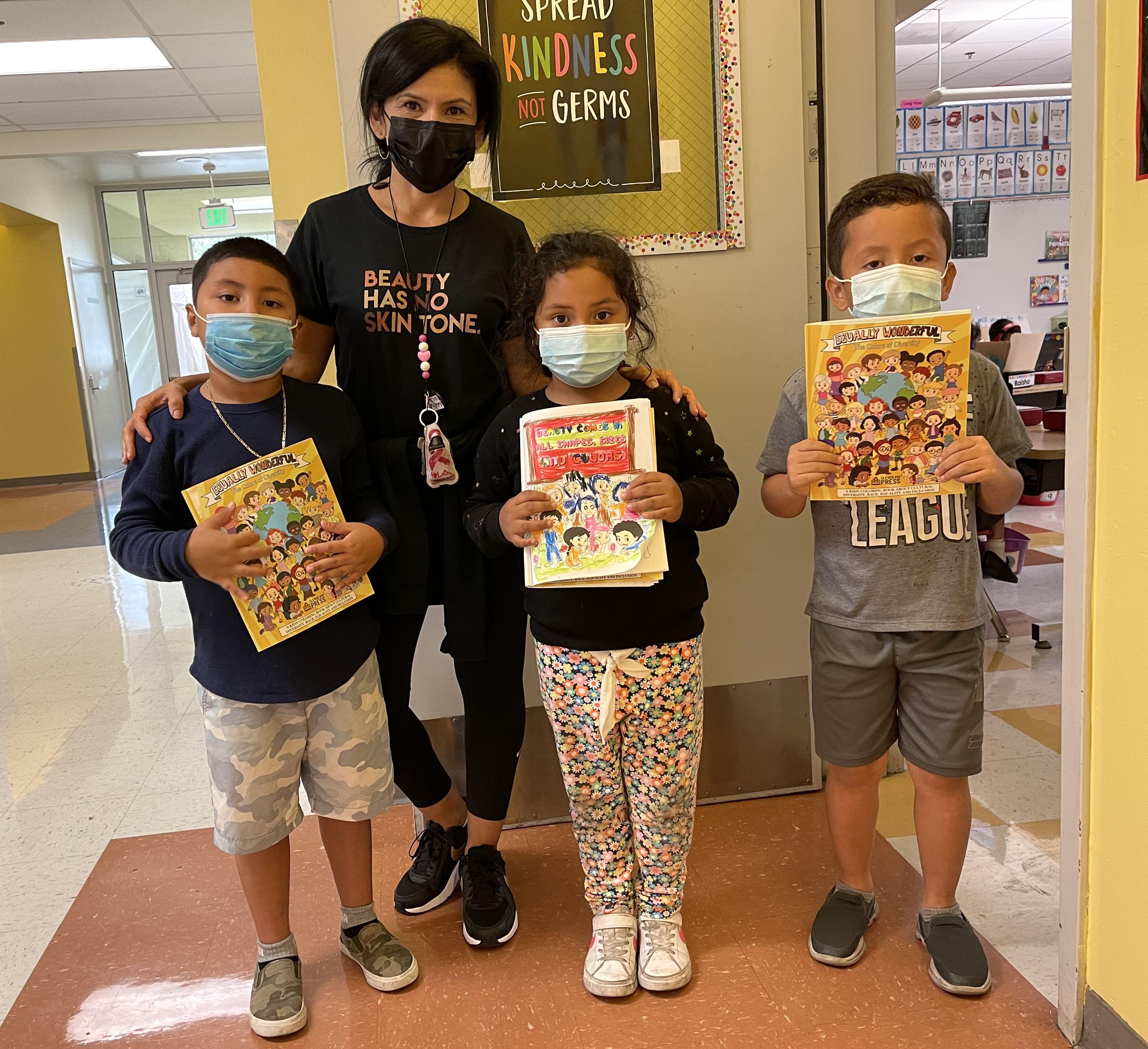 Courtesy of Ms. Lopez
This story was originally published on The Mighty and originally appeared here on 07.21.17


Most people imagine depression equals "really sad," and unless you've experienced depression yourself, you might not know it goes so much deeper than that. Depression expresses itself in many different ways, some more obvious than others. While some people have a hard time getting out of bed, others might get to work just fine — it's different for everyone.
Here's what they had to say:
1. "In social situations, some people don't realize I withdraw or don't speak much because of depression. Instead, they think I'm being rude or purposefully antisocial." — Laura B.
2. "I struggle to get out of bed, sometimes for hours. Then just the thought of taking a shower is exhausting. If I manage to do that, I am ready for a nap. People don't understand, but anxiety and depression is exhausting, much like an actual physical fight with a professional boxer." — Juli J.
3. "Agreeing to social plans but canceling last minute. Using an excuse but really you just chickened out. It makes you think your friends don't actually want to see you, they just feel bad. Obligation." — Brynne L.
4. "Hiding in my phone. Yes, I am addicted to it, but not like other people. I don't socialize, I play games or browse online stores to distract myself from my negative thoughts. It's my safe bubble." — Eveline L.
5. "Going to bed at 9 p.m. and sleeping throughout the night until 10 or 11 a.m." — Karissa D.
6. "Isolating myself, not living up to my potential at work due to lack of interest in anything, making self-deprecating jokes. I've said many times before, 'I laugh, so that I don't cry.' Unfortunately, it's all too true." — Kelly K.
7. "When I reach out when I'm depressed it's 'cause I am wanting to have someone to tell me I'm not alone. Not because I want attention." — Tina B.
8. "I don't like talking on the phone. I prefer to text. Less pressure there. Also being anti-social. Not because I don't like being around people, but because I'm pretty sure everyone can't stand me." — Meghan B.
9. "I overcompensate in my work environment… and I work front line at a Fitness Centre, so I feel the need to portray an 'extra happy, bubbly personality.' As soon as I walk out the doors at the end of the day, I feel myself 'fall.' It's exhausting… I am a professional at hiding it." — Lynda H.
10. "The excessive drinking. Most people assume I'm trying to be the 'life of the party' or just like drinking in general. I often get praised for it. But my issues are much deeper than that." — Teresa A.
11. "Hiding out in my room for hours at a time watching Netflix or Hulu to distract my mind or taking frequent trips to the bathroom or into another room at social gatherings because social situations sometimes get to me." — Kelci F.
12. "Saying I'm tired or don't feel good… they don't realize how much depression can affect you physically as well as emotionally." — Lauren G.
13. "Answering slowly. It makes my brain run slower, and I can't think of the answers to the questions as quickly. Especially when someone is asking what I want to do — I don't really want anything. I isolate myself so I don't have to be forced into a situation where I have to respond because it's exhausting." — Erin W.
14. "Sometimes I'll forget to eat all day. I can feel my stomach growling but don't have the willpower to get up and make something to eat." — Kenzi I.
15. "I don't talk much in large groups of people, especially when I first meet them. I withdraw because of my anxiety and depression. People think I'm 'stuck up.' I'm actually scared out of my mind worrying they don't like me, or that they think I'm 'crazy' by just looking at me…" — Hanni W.
16. "Not keeping in touch with anyone, bad personal hygiene and extremely bad reactions to seemingly trivial things." — Jenny B.
17. "Being angry, mean or rude to people I love without realizing it in the moment. I realize my actions and words later and feel awful I had taken out my anger on people who don't deserve it." — Christie C.
18. "Purposely working on the holidays so I can avoid spending time with family. It's overwhelming to be around them and to talk about the future and life so I avoid it." — Aislinn G.
19. "My house is a huge mess." — Cynthia H.
20. "I volunteer for everything, from going to PTO meetings to babysitting to cleaning someone else's house for them. I surround myself with situations and obligations that force me to get out of bed and get out of the house because if I'm not needed, I won't be wanted." — Carleigh W.
21. "Overthinking everything and over-planning. The need to make everything perfect and everyone happy, even if it's taking all my energy. As if validation from someone else will make it all better. Sometimes I start out on high power, then just crash and don't even enjoy what I've spent weeks/months planning. And no one will see me for months after, as I retreat into my safe bubble." — Vicki G.
22. "I smile all the time even though I don't really want to, but I do it because I don't feel like I'm allowed to be sad when I'm with other people. I also do whatever it takes to make someone else happy because since I don't feel happy most of the time, it just makes me feel a little better seeing someone else happy. I also isolate myself even though sometimes I really just want someone around." — Wendy E.
23. "People don't realize I say sorry before I even think about expressing any opinions because that's how worthless I feel. I'm apologizing for feeling anything about anything because that's how little I feel I matter. They don't just know I feel like apologizing for even breathing in their general direction. I even say I'm sorry before asking to use the bathroom no matter how long I've held it. I feel like a burden for biological needs I have no control over." — Amy Y.
24. "Neglecting to do basic things like laundry, not wanting to cook a meal or eat. They think I'm being lazy." — Rebecca R.
25. "Sometimes I'll go days without speaking to anybody. People tend to believe I'm ignoring them on purpose when really I am just lost within myself. I don't mean to seem like I'm pushing people away. Some days it's hard when my thoughts consume me and when I can't find the motivation to do simple things that others do on a daily basis." — Alyssa A.
26. "People don't realize I can't say no without feeling guilty. I have to have a good enough reason for everything I do. I guess it's customary to try and convince someone to change their answer, but people have no idea how much it takes for me to say no in the first place. I feel worthless so much that I feel guilty for even thinking of putting my needs or wants first. Then I just feel like a doormat when I cave into the pressure. It's a never-ending cycle." — Amy Y.
27. "I push away/cut off everyone who I care about because I can't bear to be hurt by them! Everyone just thinks I'm mean and anti-social." — Tina R.
28. "Going for late night walks by myself. My depression keeps me awake at night and my thoughts can get so overwhelming I feel physically crowded inside. Late night walks help me quiet the screaming in my head." — Lynnie L.
29. "I have often been accused of having 'no sense of humor.' So wrong. Before depression took over my life, I smiled and laughed as much as the next person. Now, having lived with depression for over 15 years, the humor I find in a joke or situation is rarely visible on my face or heard in my laugh. I feel humor, but it's just too much effort to express it. I don't have the energy." — Martha W.
30. "Keeping the house dark is a comfort thing for me. People always point it out, like, 'No wonder you're so depressed. You need to let some light in.' Darkness in my living space makes me feel comfortable, almost like I'm not alone. Good days, I'm all about the sunshine!" — Michelle T.
Dog groomer, librarian and knight.
Blink 182 said it best: Work sucks, I know.
When we're kids, we dream of becoming astronauts, marine biologists, firefighters … only to discover that these jobs are nowhere near what we imagined them to be. As it turns out, all jobs require work, sadly.
A recent Reddit thread asked: "What is an overly romanticized job?" And though the answers are blunt, they do reveal another side of these so-called "dream jobs."
"You spend most of your time cleaning poop and you're paid like shit." – Coc0tte

Sandra Bullock surprise GIF by 20th Century Fox Home Entertainment
"I dated a woman who was with the FBI and she enjoyed what she did most of the time but wow was it dry. Imagine sitting in a car watching a house for 6 hours then going back to the office and spending a few hours writing a report. Or looking through 10 years of purchase records and receipts that you pulled out of the trash to build a case. Or sitting in a room at midnight listening in on a dude having phone sex with his mistress.The overwhelming majority of her job was writing reports, status updates, and reviewing financial documents in an office. The hours were terrible, the work seemed boring, and the bureaucracy was thick." – L_Bart0
"I had a boyfriend who did it for several years… You play the same five minutes of game over and over again, hundreds of times (sometimes thousands). The job kinda killed his passion for gaming, and as far as I know, he still doesn't play anything for fun." – QuinnRMonroe
"Those guys start as squires and deal with tons of grunt work and when they become knights, hours are still terrible but now you risk very serious injuries during practice or during a show. All of my friends that have worked or work there have had multiple surgeries, broken bones, you name it. They do like having the spotlight on them and they're like brothers but usually hate it after a while." – Linas416
"For some reason some of my old coworkers got it in their heads that my traveling sales job was whisking me away to exotic places and gourmet meals on the company dime. No. No no no. Unless you think Syracuse is basically Paris and eating a poorly wrapped burrito while driving because you don't have time to stop for lunch between appointments is fine dining, sales is not sexy." – FistedTate
"Saddest part for me was on the road one time going out to a solo dinner (as usual) and being sat with a candle and rose in the middle of the table. I looked around and saw every other table was a couple and only then did it hit me it was Valentine's Day." – rocket-guy-12
How i met your mother spell GIF
"If you get offered a professorship in Boise Idaho you have to take it, because you almost certainly will not be offered another one." – workacct1999
"Seems like lots of good romcom boyfriends are architects. In reality, the hours are long, the stress is extremely high, and pay is really poor for a skilled profession.Edit: I'm an interior designer, and it never stops surprising me that I make FAR more money than architects, with far less training." – RandomRavenclaw87
"There's a great essay that's titled something along the lines of 'the best time to be an architect is at a cocktail party.' I'm lucky. I genuinely love architecture and design and didn't really mind the killer hours and stupid tests when I was younger, and I have mostly worked for firms that ask me do quality work most of the time. But man oh man do the general public have no idea how cutthroat and fragmented the business side of it is." – Bulloak
"People imagine you selflessly save starving babies. In reality it's a commute to a desk job and staring at a computer all day." – DJRoone
"I'm currently on a show I love with people I love and it's the weirdest mix of dream job and ruining my life. I get to make incredible things but the deadlines are unreasonable, I haven't had a weekend in months and neither have my coworkers. I feel like I'm in a suicide cult where we are all too afraid to let each other down, meanwhile we are just lining the pockets of the CEO of Netflix." – jerisad
Me: "Sadly, yes." – Wuz314159
Harvey Specter suits GIF
"Working as a lawyer isn't anything like on TV." – Grapezard
"I'm a lawyer and most of my friends are lawyers and I know very, very few who enjoy their jobs. The disconnect between what people think lawyers do and what lawyering is actually like on a day to day basis is massive." – _Doctor_Teeth_
"It's not all creativity and celebrity. It's almost entirely grunt work, danger, injury, and long hours resulting in missed time with family." – tamiraisredditing
"People have big dreams, but most people end up working positions similar to quality control assistant at a random industrial uniform company rather than a designer at Forever 21, let alone Dior. Reality is quite brutal. Even if you do make it into the mainstream side of things, be prepared for all the negative stereotypes. It's pretty much true that it's filled with toxic, judgmental, superficial people who are also kinda racist…And those ethically sourced, made by women in developing countries, feel good brands? You'll be shocked by how morally questionable it gets behind the scenes.I left the industry kind of by accident due to life circumstances, but I always knew I was never going to be happy in that environment. Nor would I have made as much money or have any semblance of a work life balance." – lithelylove
DC comics television GIF
"It's not quiet, we don't read all day, we clean up our fair share of bodily fluids, plunge many toilets, and interact with homeless/mentally ill patrons fairly regularly depending on our location. Sure a bulk of our job is recommending books to readers and coming up with fun programs, but sometimes I feel like a community secretary…Or a social worker, which I did not sign up for. I love my job, but it is absolutely exhausting and gross and stressful and scary sometimes." – _s_p_q_r
"You picture yourself at a typewriter in a cabin by a lake, crackling fire in the fireplace, a golden retriever asleep at your feet and a glass of lagavulin in your hand dreaming up the next great American novel. Contrast that to reality where the writing jobs that actually pay the bills usually involve long nights and weekends sitting in a cube farm writing the instructions that come with a toaster that nobody will ever read." – capn_gingerbeard
This looks a little too bright catch me if you can GIF
"People think you are like Leonardo Dicaprio in Catch Me if You Can; swaggering through the airport, wearing sunglasses, surrounded by hot flight attendants. In reality, we're like glorified bus drivers whose job is 1% excitement and 99% absolute boredom just sitting in a cockpit waiting for life to pass by." – Essex1820
By this point, you might be wondering, IS there a job that's as romantic as it sounds? One user provided a humorous answer:
"IT is exactly as romantic as it sounds. It really is a bunch of nerdy guys in a basement spending most of the day on Reddit and acting like we're swamped with work."
And a delivery driver came in to offer the thread a different perspective:
"I work at a Dominos delivering pizza and everybody acts as if it is the most embarrassing job but I love it! I basically get paid 20 bucks an hour on average… and honestly I like it a lot more than my graphic design job."
Though maybe no job is as glamorous as it looks on paper, hopefully we can all find that sweet spot where even the less-than-ideal working conditions are still workable.